if( has_post_thumbnail( $post_id ) ): ?>
endif; ?>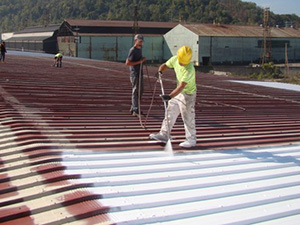 When you're on the hunt for a reliable commercial roofing contractor in Hamilton, OH or the surrounding areas, Van Martin Commercial Roofing is the trusted team of roofing professionals you can count on to handle all your commercial roofing needs with ease. As a full-service roofing contractor in the area, we know what it takes to help roofs succeed in our climate and we're here to custom tailor our services and solutions to better fit the needs of your specific roof. Whether you need a repair or routine service, or if you'd like to schedule an inspection for the coming spring to ensure your roof is ready for the storms of summer that aren't far behind, we're here to help! Give us a call today at (937) 742 – 4577 and know you'll soon be able to trust in your building's roof again when you have VM Commercial Roofing taking care of you and your roof.
Complete Coverage
Commercial roofing contractors aren't necessarily a hard thing to find, especially when you have the help of Google right at your fingertips. But knowing you have a true full-service team of professionals that will keep you and your roof at the forefront of every job can be a tough one to be sure of. At VM Commercial Roofing, we have worked hard to build our team of committed roofing professionals and we're proud to say we're here and fully equipped to be your one-stop shop for all things roofing.
We never subcontract out a job and this means you can rest easy knowing anytime you put your roof in our hands, it will ALWAYS be our skilled professionals completing the job. With only high-quality roofing products and a team of skilled craftsmen ready to work for you, you'll soon have a roof set up for success once again.
Reach Out Today
When you need a commercial roofing contractor you can trust in Hamilton, OH, it will pay off greatly if you do just a bit of research and make sure you're hiring a trusted team of roofing professionals. For those in Hamilton, OH, VM Commercial Roofing keeps it simple and we look forward to hearing from you! Reach out today at (937) 742 – 4577.