if( has_post_thumbnail( $post_id ) ): ?>
endif; ?>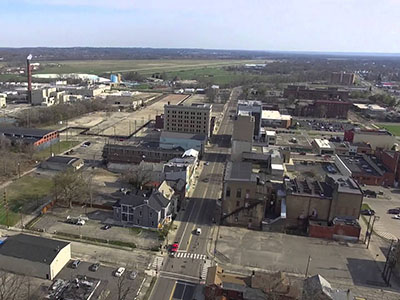 Founded in 1802, there are multiple theories how Middletown got its name.  One theory holds that the founder, Stephen Vail, named it after his hometown of Middletown, NJ.  Another theory is Middletown was named for its location midway between Cincinnati and Dayton.  Conversely, there is the theory that Middletown is so named as it was the halfway point of navigation on the Great Miami River.  In any event, Middletown is in the "middle" of everything!
With cultural events, outdoor activities, gaming, and food/beverage options, there is never a lack of things to do when you're in Middletown.  Here are a few of the Van Martin Commercial Roofing family favorites.
Sorg Opera House.  This architectural icon is undergoing renovation to bring it back to its original splendor.  Despite the name, the Sorg is host to many different musical venues, theatrical productions, and seasonal events.  Interestingly,  John Phillips Sousa allegedly played the venue in 1898.
Veteran's Memorial.  The beautiful park-like setting is a perfect location to honor the Nation's heroes and share the importance of their sacrifice with our children.
 BeauVerre Riordan Studios.  Housed in a restored turn of the century building located in the heart of Middletown, BeauVerre Riordan is the oldest continually operating stained glass studio in the United States.  Enjoy their beautiful works of art and stay for dinner.
Butler County Warbirds, Inc.  More than just an aviation museum, the Warbirds offers the unique opportunity to take a flight around the area in one of the smallest planes you'll ever sit in.  The flight even ends with a grass runway landing!  First class experience for the aviation aficionado in your family.
Service with Integrity
Why call Van Martin Commercial Roofing?  In a single word….integrity.  At Van Martin, our business is conducted on a single basic tenet, quality work done right. Though that sounds basic and obvious, that isn't always the case.
Having quality work done the first time everytime is good for you.  It keeps your costs down, reduces or eliminates business downtime, and maximizes the structural integrity of your roofing structure as well as your roofing system.
Doing the job right is also good for us.  It keeps our costs lower by not needing to re-do work.  It gives you a reason to use us again and to refer us to your business colleagues.
The environment with thank you.  By reducing waste and torn off materials, we reduce the amount of garbage in our landfills.  Doing it right also reduces the amount of product needed to manage your roofing system. This reduces energy usage and carbon emissions.
If you feel, as we do, that having the best commercial roofer standing on top of their work, is good for your business, give VM Commercial Roofing a call at 937-742-4577. We will schedule a consultation and, working together, develop a plan to meet your commercial roofing needs.