if( has_post_thumbnail( $post_id ) ): ?>
endif; ?>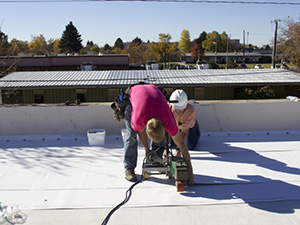 With three main types of single-ply roofing systems, it can be tough to know you're hiring a true team of roofing professionals that will handle your roof properly, but at VM Commercial Roofing, we have worked hard to build a team of true experts that are skilled in all areas of commercial roofing. Whether you have a rubber (EPDM) roof, TPO, or PVC roof, or if you are looking to have your existing roof replaced with one of these trusted options, our team is ready to get things started right away! We bring quality in every way to building owners, facility managers, and more throughout Hamilton, OH and we look forward to hearing from you, give us a call today at (937) 742 – 4577.
Customized Solutions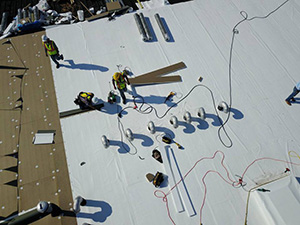 There are many different types of roofing systems on the market and while many of them share some of the same great qualities, they are all unique and have different requirements to ensure long term success. Even the different single-ply membranes are unique from each other, while they are all comprised of a single membrane, thus the name, the materials in each one is vastly different. If you're looking to have a new roof installed on your building and you're feeling overwhelmed by your options, it's ok! We get it and our knowledgeable roofers are here to help you choose the best roof for all your needs.
Whatever type of roof you choose to have installed or whatever type is already atop your building, you can be certain our professionals will customize our services and solutions to better fit the needs of your specific roof. Single-ply roofs are incredibly durable and with a flawless installation followed by routine inspections and maintenance, you could see your roof last for decades! Talk about a great return on investment, and who wouldn't want that? Call our office today to get started on your next roofing project!
Reach Out Today
VM Commercial Roofing brings those in the Hamilton, OH area the trusted single-ply roofing solutions they need, and our skilled roofing professionals will make sure your roof is always getting what it needs to deliver the protection it was designed to. Keep things in great shape with VM Commercial Roofing handling all your roofing needs, reach out today at (937) 742 – 4577.